This page offers full insight into one typical T Tauri ProDiMo model.
The parameters of this model are chosen to roughly match the continuum and line fluxes of real class II T Tauri stars.
You can download here
Please contact us if you have any questions, comments, or would like to collaborate.
---
An example TTauri ProDiMo model
The following ProDiMo model of a "typical TTauri star" is designed to predict continuum and line fluxes that roughly resemble the observations of real class II TTauri stars. The effective stellar temperature is chosen as Teff = 4000 K, and the stellar luminosity L✶ = 1 L☉; these values correspond to spectral type K7, a stellar mass of M✶ = 0.7 M☉ and an age of about 1.6 Myrs.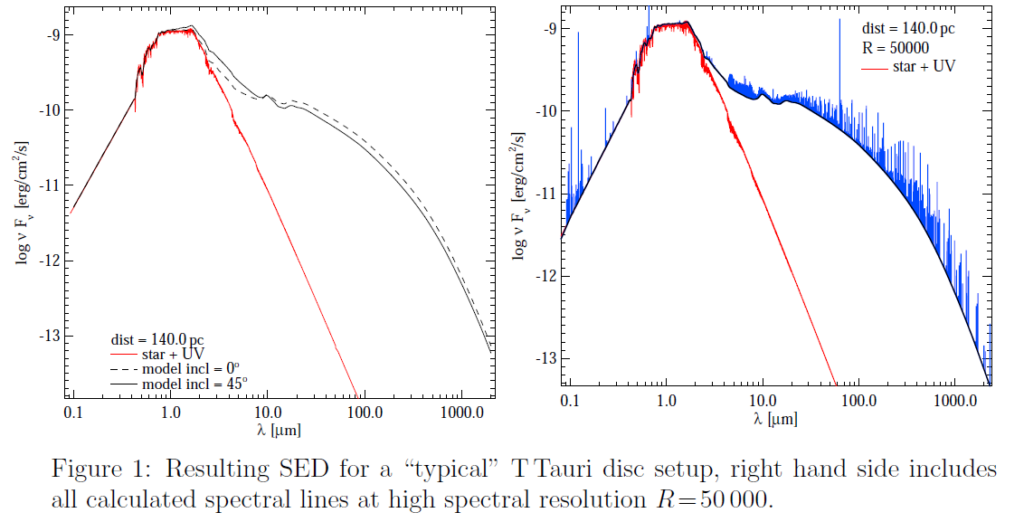 ---
See all chapters:
1. Spectral Energy Distribution
2. Disc Shape and Dust Settling
3. Gas and Dust Temperatures
4. Chemical Structure
5. Predicted Continuum Observations
6. Predicted Line Observations