The work in this FP7 project will be carried out in the following five European institutions
School of Physics & Astronomy at the University of St Andrews (UK)
Astronomical Institute Anton Pannekoek in Amsterdam (NL)
Kapteyn Astronomical Institute in Groningen (NL)
Institut de Planetologie et d'Astrophyique de Grenoble IPAG (F)
Institut für Astronomie der Universität Wien (A).
The team consists of one paid staff member (Woitke), three paid post-docs (Min, Dionatos, Ilee) and three paid PhD-students (Rigon, S. A., Anthonioz). The team is completed by five additional work package leaders (Kamp, Ménard, Waters, Guedel, Greaves) and further five associated members (Thi, Carmona, Pinte, Dominik, Rab, Liebhart, Baldovin Saavedra).
---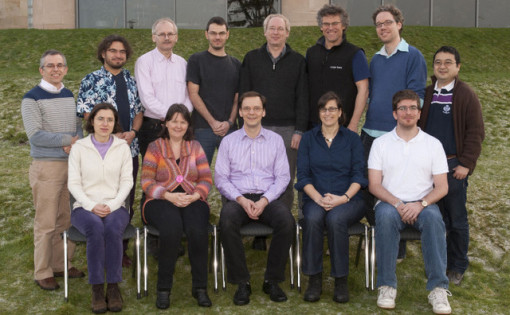 Standing (left to reight): Rens Waters, Andres Carmona, Manuel Guedel, Christophe Pinte, Carsten Dominik, Francois Ménard, Michiel Min, Wing-Fai Thi; sitting (left to right): Laura Rigon, Jane Greaves, Peter Woitke, Inga Kamp, Fabien Anthonioz Not included in this picture are Odysseas Dionatos, Christian Rab, S. A., John Ilee, Armin Liebhart and Carla Baldovin Saavedra.
For more information about the individual team members and tasks, please use the links to Amsterdam, Grenoble, Groningen, St Andrews and Wien on the left hand side!